Roots To Rhythm®
Welcome to Newsight Life's signature program offering — a joyful, interactive gathering of people — connected in rhythm!
Imagine… every person having a drum or percussion instrument… simultaneously discovering and expressing their own innate rhythm… creating and contributing to a group synchrony that becomes something else, something greater than themselves!
A rhythm event is a model of a successful organization: people working together, in the moment, simultaneously creating and receiving in an energetic and joyful environment.
Study after study demonstrate the wealth of benefits from group drumming, including stress reduction, empowerment and resiliency, team building, communication, community connection, exercise, diversity awareness, recovery support, and an overall sense of wellness.
The difference is the inclusion of powerful reflection in my drumming programs that pair your experience with insights for personal transformation.
"An inspirational, fun journey!"
– Tami McAdams, Licking Park District
Choose from one of the Roots To Rhythm programs below.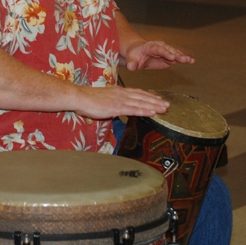 A Roots To Rhythm Program is Great For:

Workplace, Leadership, and Team Development

Conferences and Keynotes

Health and Wellness

Community Events and Celebrations

Youth and Education

Private Events and Retreats
Roots To Rhythm has been experienced by tens of thousands of people across the eastern United States for more than 20 years.
Facilitator Toni Kellar is trained in three evidence-based protocols: HealthRhythms®, Rhythm2Recovery®, and Beat the Odds®.
This is something you don't want to miss!
I can accommodate a handful of people, or hundreds.
"I was so inspired. I know our drumming group will grow in beautiful ways."
– Dayle Huffman, Land of Legends Drumming